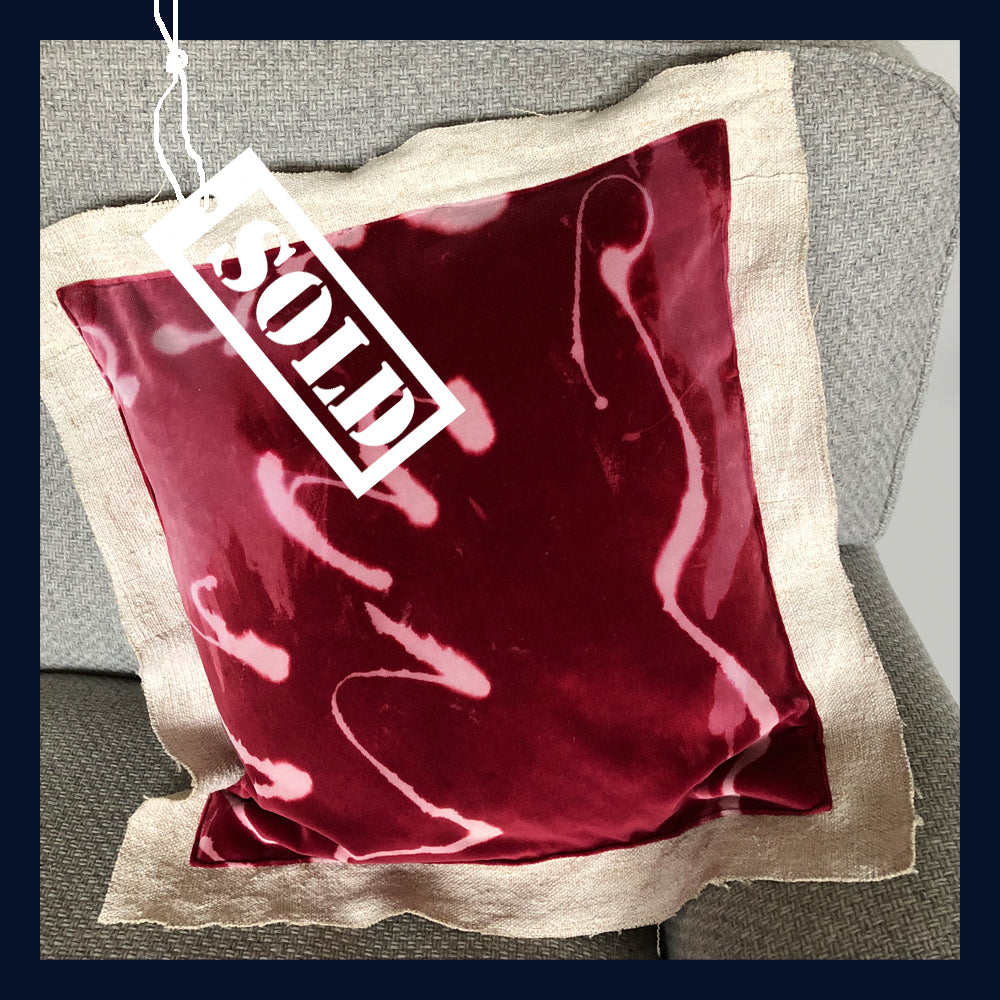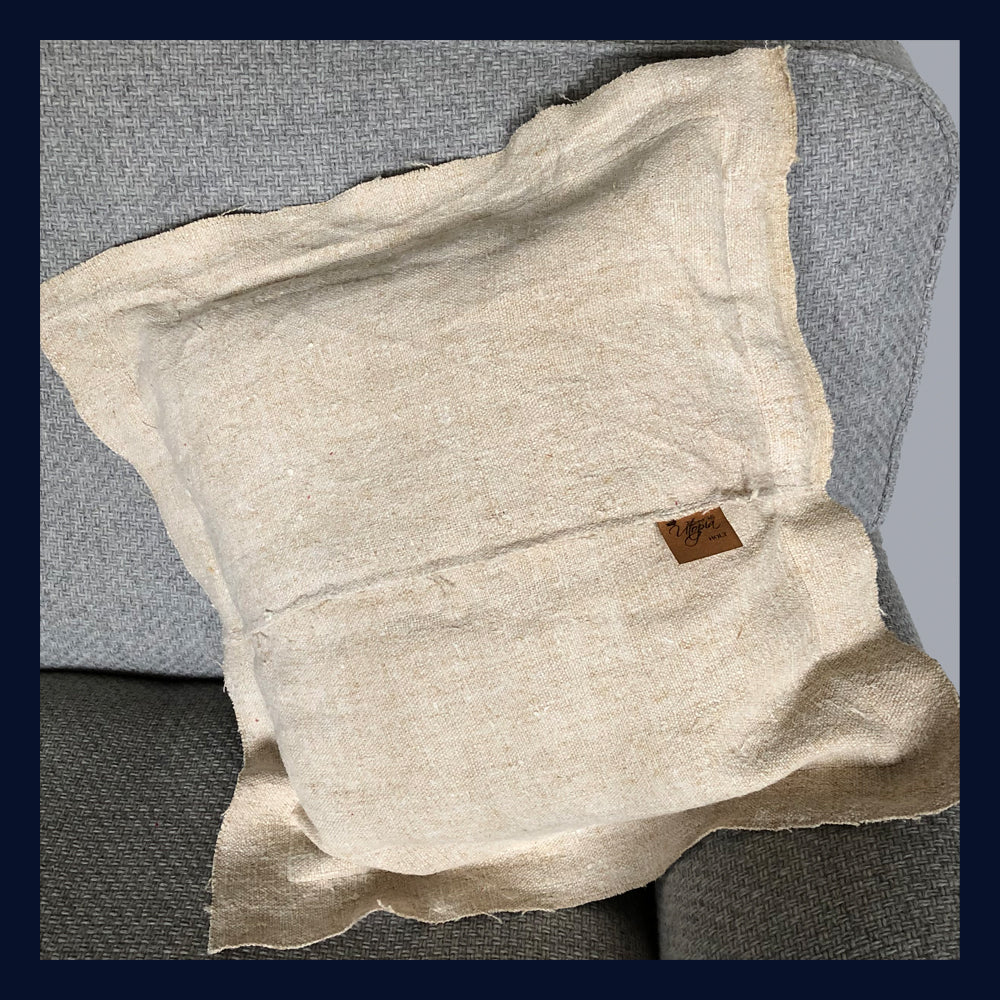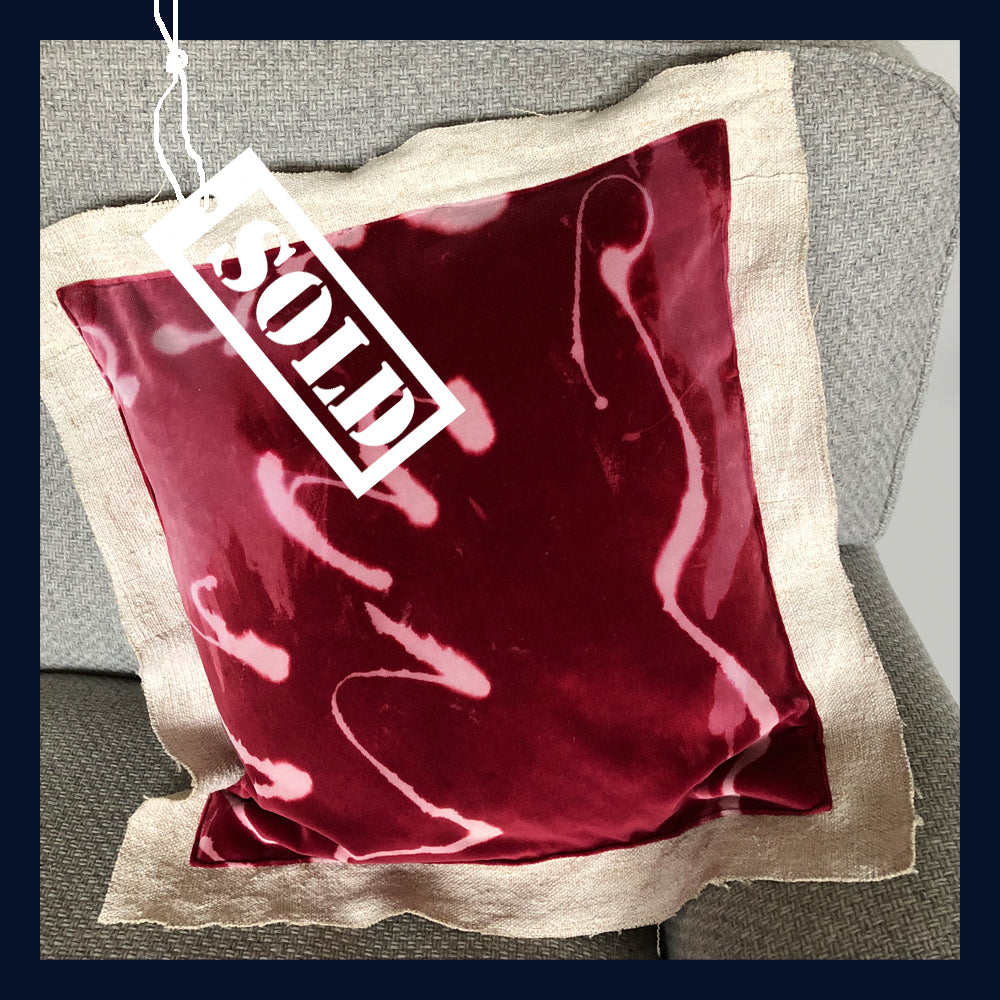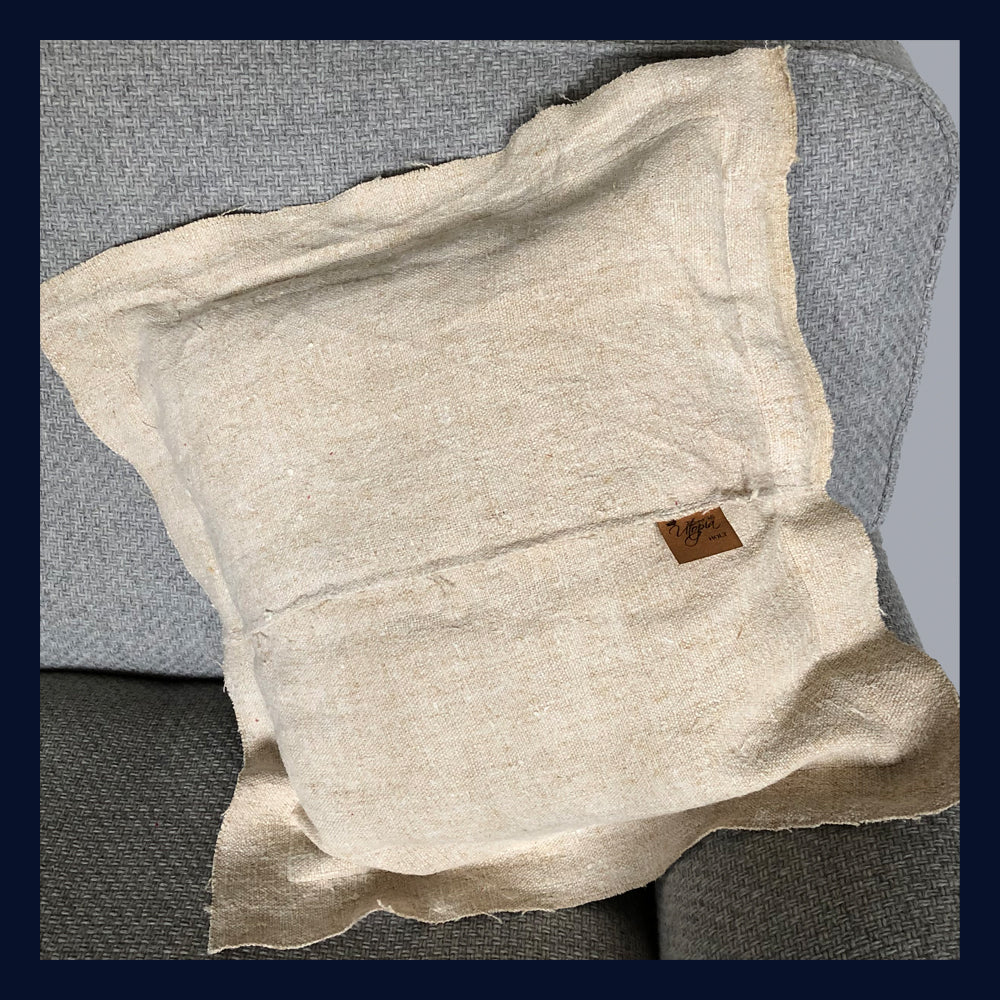 Raw Luxe Collection: Luxury Vintage Velvet & Handwoven Antique French Linen Cushion 16"/41cm (1)
Raw Luxe Collection: Luxury Vintage Velvet & Handwoven Antique French Linen Cushion
SOLD
A sumptuous cushion created from softly faded, vintage velvet that has been utopiaised to create an individual pattern on the front face of the cushion. The velvet is 'framed' with a flange of French antique handwoven linen with a wonderful slub texture. The edge is subtly frayed then stitched. The reverse is made of the same antique fabric with a deep envelope to contain the cushion pad.
All our cushions bear our branded vegan leather label on the back plus a washing instruction label inside.
A British-made, hollow fibre cushion pad (filing complies with BS 5852 part 2) is included in the price.
Dimensions:  Cover including flange 21"/53cm. Cushion pad 16"/41cm
All the creations in the Raw Luxe Collection are one-offs, we may be able to find and make something similar that happily partners another, but none will be exactly the same. If you're wanting a 'utopian pair' then cushion no.2 partners this design, colour and fabric composition well.
Antique Linen
The frugal living conditions of the French peasants meant that many wove their own cloth on narrow looms in their own homes. These highly covetable cloths were often made into sheets with a join down the middle. Hemp was relatively easy to grow and turn into fibre, making it an obvious choice for country folk with little means. These antique linens are usually rough with a slub texture and have a variance in the tightness of the weave.
Repeated washing will help break down the fibres to create a softer cloth and laundering also changes the dark beige colour to a softer creamy white.
Raw Luxe Collection
Raw Luxe specialises in creating contemporary atmospheric interiors that exude a faded grandeur.   The Collection celebrates the tactile and sensuous qualities of old fabrics with their natural imperfections and worn narratives. We source antique and vintage textiles that capture a palpable sense of history in their weave and drape, then mix them to create new interfaces for interior accessories - thus making enduring and unique style statements.
We are passionate about harnessing traditional British trade and craft skills to make our exclusive designs, so expect: well made creations with a strong attention to detail.
Please note that the colours on our products are reproduced here as accurately as possible, however, as with all photography, printing and online screens, there may be some small variations.
Utopia charges a flat rate of £10 for all deliveries in the UK mainland. If purchasing from outside the UK please contact us for a shipping quote.
Care for your Cushion 
Old textiles require careful laundering to maintain their beauty and attractive handle.
1. Wash your item by hand using warm water and soap flakes.
2. Rinse well in warm water and dry flat.
3. Iron on reverse if necessary.